Curtis C. Duncan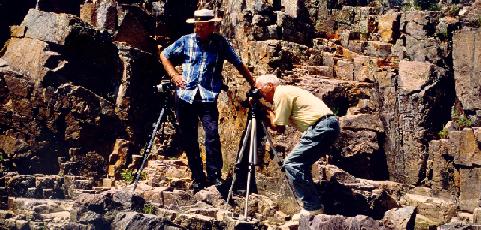 [Curtis Duncan at camera with brother Lloyd]

A Short Biography

---
Curtis Cecil Duncan was borned March 26, 1922 in Franklin County, Spruce Pine, Alabama. The oldest of four children. I lived in several places since we were sharecroppers and moved often. Summers were spent helping with crops plus many days spent in the woods fishing and the general things a child would do. I attended school at Belgreen, Alabama and at that time the school districts charged tuition. Unable to pay the tuition in cash, I walked 5 to 7 miles to Belgreen schools to work out the tuition by cleaning the school rooms and other related activities.

In the fall of 1937, we moved to Deering, Missouri, to pick cotton for Deering Farms, Inc. Which we did, but this was the year of the 1937 flood, so we loaded in the back of a bob truck with a tarpaulin covered bed and headed back to Alabama. This was in December so you can say we almost froze to death. We returned to Deering, Missouri, after the flood passed. In order to get into the Deering Schools, I had to take an entrance exam to enter the school. On the entrance examination, I checked out at two grades below my present level, and had to retake two grades. This made me older than the average student in the class. On the other hand, it maded me more competitive in sports because of my age.

My father worked for Deering Farms, Inc. driving mules, pulling cultivators and we children chopped cotton. Mother got a job in Kennett, Missouri, working in a shirt factory, so we moved to Kennett in the fall of 1938. I attended Kennett Schools, playing football, baseball, running track and basketball. To help out, I had paper routes, worked at Blakemore Drug Store part time. Later, I worked in the shirt factory during the summer.

World War II came along in 1941, and in the fall of 1942, I enlisted in the US Navy since I was draft age. After boot camp at Great Lakes Training Station north of Chicago, I was sent to Northwestern University, Evanston, Illinois for radio training. I failed the code portion of the radio school and was sent to North Africa in the 8th Amphibious Command stationed at Neumours, Morrcco and then transferred to Birzite, Tunisa. This was the headquarters of the 8th Amphibious Command. Then I was transferred to the operational status and was on the ships working in communications department and made the Italy and Southern France invasions. When the war was about over in Europe, I was transferred back to the United States and assigned to Casco Bay Naval Station, Portland, Maine and discharged in 1945.

After being discharged from the Navy, I returned to Kennett and entered Arkansas State College, Jonesboro, Arkansas in the fall of 1946. I think the school had an enrollment of 800 in 1945 and about 600 GI's enrolled fall of 1946. The school was hard pressed for space with such an increase in enrollment. I graduated from Arkansas State University, August 1950 with a Bachelor of Science Degree with a Business Major in Accounting.

While in College, I met my wife, Emma Irene Magers and was married June 27, 1947 at Dell, Arkansas. After college, we moved to Dell where I worked at Farmers Gin Co. of Dell, Inc., first as a weigher and later as manager of the cotton gin for fifteen years plus. During this management period, I farmed 300 acres. I left the cotton gin in 1972 and opened a Photography Studio that operated for 14 years.

A Kiwanis Club was formed in Dell and held the offices of Secretary Treasurer, Vice President and President. plus being a board member. Later I served as Lt. Governor of Division 16 in the Missouri-Arkansas district. Then served on the International Agriculture Committee. The Kiwanis Club sponsored the Dell Boy Scout Troop 255 serving as Scoutmaster for some five years plus and had several of the boys win top honors in scouting including Order of the Arrow.

Photography has always been one of my major activities. With a Kodak box camera, I took my first picture. This was magic to me. to think that one could record something that would last forever. During the World War II, I used a Kodak folding camera to record many of the places and activities. With the help of some others, we did some printing using V-Mail Stock. This turned out alright, but lacked the right paper to really make a good print. After Irene and I married, I purchased an 8mm movie camera and used it to make films of the children, plus vacations. In 1962, joined the Photographic Society of America with Movie Division as my focus. The PSA was an International Organization offering study groups, competitions, workshops, instructional slide sets and conventions where lectures were given on photography. Through this, I decided to take up 35mm photography and Irene gave me my first 35mm camera, Exacta. From the Exacta, I have used and owned Kodak Retina, Nikons, Mamiya Twin Lens Reflex, Rolleiflex, Hasselblad, Speed Graphics, Leica Rangefinder and Nikon Rangefinder. My darkroom equipment is a Bessler 4 x 5 motorized enlarger with condenser light head, negative film holders from 4 x 5 to 35mm, Nikkor lens, Gralab timers, 20-print 8 x 10 washer.

The Photographic Society of American International Convention in St. Louis, Missouri, was my first convention and exposure to the many aids the organization offered. Many of the members helped me with information about how to make better photographs. This information enabled me to compete in the PSA sponsored salons or competitions. Needless to say, I really got involved with the Photographic Society of America activites.


---

He has donated many of his prints to the Museum at Arkansas State University. Click here for ASU Exhibit. [rcd]






Dad passed away on Sunday, September 25, 2005.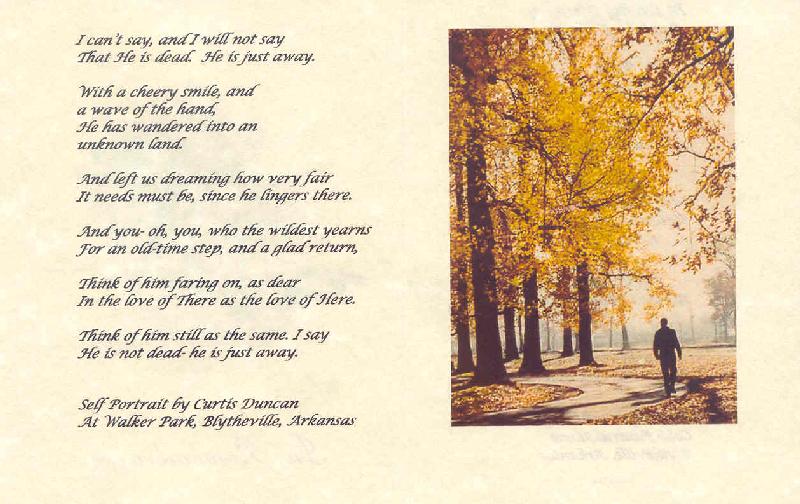 Home
This page is presented by Drucella Duncan King and Richard Duncan to their Father.
Copyright 2005